Medical tourism is nothing but people travelling to other countries for medical treatments. It is seen that in recent years several people from developed countries are seeking affordable medical help from developing countries. There are several medical tourism destinations in Asia which offer quality medical treatments at a low cost. Most people travel to foreign countries for surgeries and for alternative treatments. India is one of the three top medical tourism destinations in India. The article below gives a brief overview of the reasons for India becoming a major medical tourism hub.
Statistical Data On Medical Tourism In Asian Countries
India, Thailand and Singapore are the top three countries that attract more number of medical tourists from other countries. This is evident from the statistical report offered by FCCI and KPMG. It is said that about 60% of the Asian revenue is from the medical tourism industry of the three Asian countries. Medical tourism in India has emerged as one of the top sectors as the growth rate is estimated to be about 15% and reached 158.2 billion in the year 2017. In India, states like Kerala, TamilNadu, Andhra Pradesh, New Delhi are mostly preferred by medical tourists for medical treatments.
Critical Reasons For The Increase In Medical Tourists In India
The primary reasons for the increase in medical tourists in India and other Asian countries are low-cost medical treatments, skilled healthcare providers and quality healthcare infrastructure. In India and other Asian countries like Singapore, Thailand etc. a wide variety of medical treatments are available. Some of the Asian countries have taken initiatives to improve the infrastructure and facilities of the healthcare industry. The private sector is one of the main reasons for the development of the healthcare industry and services in India. It has resulted in India becoming a top medical tourism destination in Asia.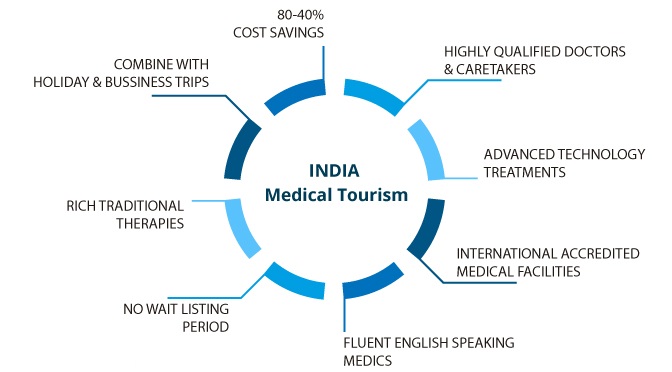 People from other countries mostly travel to India as the country offers high quality and cost-effective treatments in nephrology, oncology, cardiology, neurology and oncology.
Patients and their family can visit several attractive locations in India after their medical treatment. Alternative medical therapies like Ayurveda, Siddha and others are also popular among people in other countries.
Things To Be Done for Improving the Medical Tourism Industry
India and other Asian countries are devising strategies to attract medical tourists from all over the world. The air connectivity between and other countries must be improved. Offering accommodation at reasonable prices can also help India to be the preferred choice for medical tourism. Other factors to be considered to attract medical tourists towards India are food options, reduced waiting time in airports and the help of language interpreters.