Why Inventory Management Systems Are Essential For Hospitals?
The key to running a hospital seamlessly is keeping precise and updated inventory records. These records are not just for medicines but also for all surgical equipment. They are the key to hospital administration. Why? Because it is medication and equipment that a hospital uses the most.
The variety, the quantity and the fast turnover of masks, gloves, injections, medicines, syringes, and other disposable items is one reason a hospital inventory management process is essential. Moreover, these are life saving items, which means maintaining a good stock is mandatory.
Read More About : 4 Basic Steps To Hospital Inventory Management Process
What Happens When You Don't Have A Hospital Inventory Management Process?
When a hospital operates without a hospital inventory management process, these are the challenges it faces:
There is a frequent shortage of medicine and surgical equipment because re-orders are not done on time.
There is overstocking of items that are used less or infrequently because there is no record.
Special attention and effort have to be given to sorting medicines, which consumes time that can be spent elsewhere.
Tracking all expired products be it equipment or medicine becomes a cumbersome task.
A dedicated person has to arrange the stock, generate bills and create various stock reports manually.
A hospital inventory management system offers the perfect solution to all these problems and challenges:
You are never out of stock because the management system alerts you when lifesaving medicines or equipment are running low.
It automatically manages the stock inventory, so you don't have to assign a person to create the database.
All medicines are sorted by hospital management software. There is no manual effort.
You can easily track the stock status of every item.
All bills are generated instantly and automatically. The same applies to stock reports. They are updated in real-time, so provide accurate information.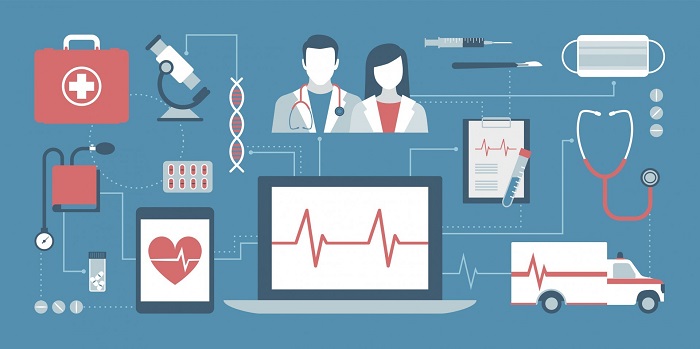 What Are The Features Of A Good Hospital Management Software?
Currently, the market is inundated with hospital inventory management processes. Each one has its own pros and cons, and they can operate on several hardware and software platforms. Some hospital management systems can even run on smartphones and tablets.
When you are looking for an excellent hospital inventory management process, make sure that it has all the following features:
E-mail orders
Cloud support
Bar code scanning
Real-time tracking
Mobile accessibility
Multiplatform support
Database management
Secured inventory database
Advanced sorting & filtering
Multiple location accessibility
Manage sales and purchase orders
Generation of sales and profit reports
These are some of the critical features that take a hospital inventory management process from good to great. Each one helps you administer and manage your hospital more efficiently and profitably. If you've been oscillating over whether to invest in an inventory management software, take the step. They are a must for all hospitals.